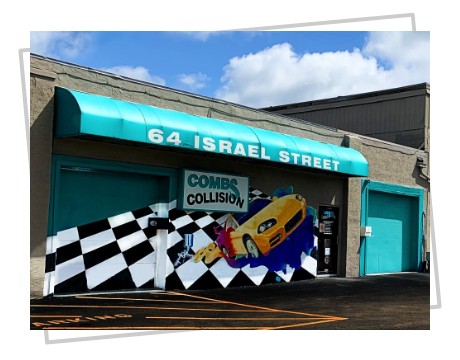 Body Shop Westerville
Located near the intersection of County Line and Westerville Rd (Rte 3).
64 Israel St
Westerville, OH 43081
Monday – Friday:
8:00 am – 5:00 pm
Why choose Combs Collision of Westerville?
FAMILY-OWNED
In the past decade, the auto body repair industry has undergone a major shift. Giant corporations continue to buy local auto body shops. We are family-owned and operated since 1987, and we support the Columbus economy and local charities. Meet our team.
EASY & SAFE
You can send your info and pictures of the damage using our online estimate form. Once your vehicle is here, use the "check repair status" link in our website menu.
PROVEN
Read a live feed of client reviews from Google and Carwise (an industry authority).  We're A-rated on Angie's List.
CAPABLE
Every tech is iCar Certified. Josiah Combs also holds an electrical engineering degree. Newer vehicles can have 170 million lines of code. Major collisions don't just involve auto body panel repairs. When you need superior auto body shop in Westerville Ohio, choose us.
✓ Get your police report.
✓ Call us – We can tow your vehicle.
✓ Call your insurance company or agent.
Do I need to get several quotes? Do I need to use the auto body shop that my insurance company recommends? How will I get around while it is being repaired? Do I have to pay for a rental car?
Even the safe drivers can be involved in an auto accident. However, when that time comes, you already know to make sure everyone is ok, call the police, and exchange your information with the other drivers…but what comes next? *Keep in mind that every insurance company handles its claims process a bit differently, but most of the steps are similar.
1. FILE A CLAIM
If the minor repair is small, you may choose to pay out of pocket. If not, contact your insurance company. Here are the links to make it easy.
2. CHOOSE YOUR WESTERVILLE AUTO BODY SHOP
We are an independent, family-run auto body shop in Westerville Ohio serving since the 1980s. Read our reviews. Peruse our "about us" page. This website has a lot of conveniences for you. Get an online estimate, schedule your visit, and check the progress of your auto body repair – right here.
3. WE TAKE IT FROM HERE
Our experts will get to work repairing your vehicle so you can get back on the road sooner. Need a ride in the meantime? We're partners with Enterprise Rent-A-Car or we can make the arrangements with the rental service that you choose.
4. PICK UP YOUR VEHICLE
We'll call when your vehicle is fully repaired and restored back to its pre-accident glory. You'll leave with a handshake and smile – guaranteed.
5. TELL YOUR FRIENDS
We're happy that you're happy. Please tell your friends and family so that if they need us, we can make them happy too. Leave us a review!