Paintless Dent Repair
There you were, a windy day in the Target parking lot. You spot a runaway cart picking up speed heading directly for your car. You sprint like a protective parent but helplessly witness the impact. The cart continues its journey – a victory lap.
Small repairs may not need the usual sanding & painting methodology.
Paintless dent repair, also called paintless dent removal (PDR) or paintless dent fix, can be a quick and cost-effective solution to repair small dings, creases or dents.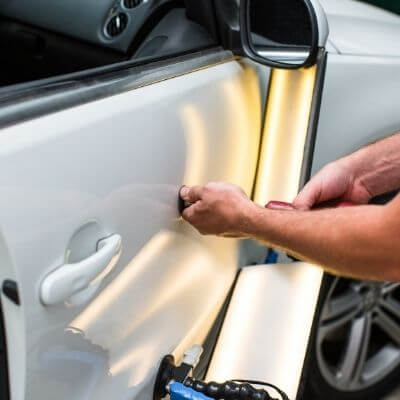 How does a paintless dent fix work?
The tech has advanced dramatically in the last decade. Your dent may be eliminated in a matter of hours and the results are simply amazing.
When you visit us, you don't need to request paintless dent repair, our estimators know what to look for.
The process may require access to the backside of the dent. It may require the removal of a body panel, tail light, or interior panels. We need a path to the dent in order to fix it.
Next, we massage the metal or plastic back to its original position. This process requires a unique gift of science and artistry.
How long does it take?
If your damage qualifies, it can be completed in with same day service since there is no waiting for parts, no taping, and no painting.
Insurance Company Assistance
Towing
Auto Detailing